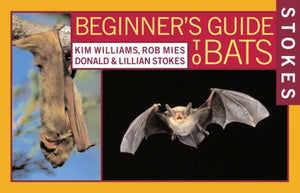 Softcover
A pocket-size, brilliantly colorful, simple-to-use guide to bats, containing dozens of full-color photographs that enable readers of all ages to identify the most common species; range maps; tips on the best times to view bats, information on habitat needs, life cycle, food preferences; and much more.

Whether you're intrigued by the amazing ability of bats to eat over 1,000 insects per hour or want to identify bats roosting or in flight, you'll find everything you need in this easy-to-use guide. Special features include:
Coverage of the 45 species in North America, including all of the endangered species
User-friendly color tab index for quick reference
Brilliant full-color photographs of each species
Information about the benefits of bats, which devour thousands of harmful insects
Plans for building a bat house and other ways to attract bats
Details on habitat, bat biology, food preferences, and much more
4.5" x 0.38" x 7"