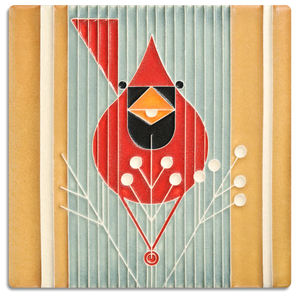 Charley Harper
"You're not likely to find anything else as red as. And you'll never find anything redder than." - Charley Harper on Cardinals
Mid-century modern meets Motawi mastery in these tiles based on the work of celebrated wildlife artist Charley Harper (1922-2007), a self-described "minimal realist."
Handcrafted in Ann Arbor, Michigan.
Actual tile size : 5 7/8" x 5 7/8"
Tiles are 5/8" thick and have a notch on the back for hanging.