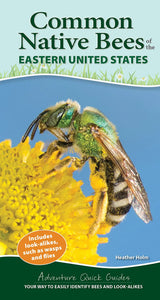 Bees are beloved garden visitors and are essential to a healthy ecosystem. We welcome their arrival and celebrate their vital work as pollinators, supporting the growth of flowers, plants, and trees. If you see bees in your area, keep this convenient guide close at hand. Designed for ease of use, the booklet is organized by group for quick identification. Narrow your choices by group, and view just a few bees at a time. The professional photographs showcase 160 species—including bee look-alikes, such as beetles, hoverflies, and wasps. Written by biologist, pollinator conservationist, and award-winning author Heather Holm, Common Native Bees of the Eastern United States features species found east of the 100th meridian (from eastern North Dakota down to eastern Texas and all the way to the Atlantic Ocean).
Book Features

Pocket-sized format—easier than laminated foldouts
Professional photos showing key markings
Easy-to-use information for even casual observers
The author's "Top 10 Things You Can Do for Bees"
Improve your identification skills and learn to make your backyard or garden a welcome place for bees, with this lightweight quick guide.