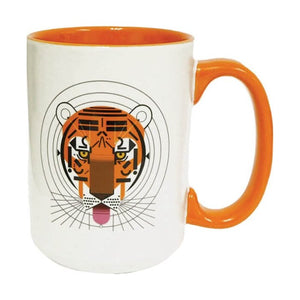 15 fl. oz., dishwasher and microwave safe
This Cool Carnivore mug is based on Charley Harper's limited addition series of Cool Carnivore printed in 1979.
A true conservationist, Charley wrote about the print "A cat in the water? The Bengal tiger likes it and you would too if you had to wear a fur coat in the steamy jungle. But when your coat is a status symbol, many would help you off with it. In this century, hunting and habitat destruction have dramatically decreased the Bengal count. Keep cool, big Bengal—and beware of man, the ominous omnivore.