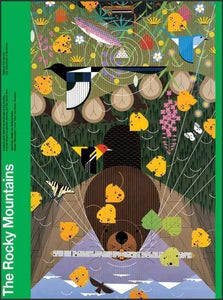 Charley Harper
Stunning 17" x 24" poster In simple black frame by renowned artist Charley Harper depicting, in color, the animal and plant life of the Rocky Mountains. On the poster, a beaver pond reflects the landscape of the Rockies, a terrain shaped by glaciers, streams, and the beaver itself.
The original painting was commissioned by the U.S. National Park Service in 1991.
Framed Posters are available for pick-up only.