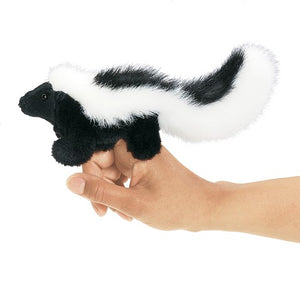 Raise a stink with this Skunk finger puppet! Or simply sit quietly and play. You see, the less alarming you are to him, the less alarming he'll be to your nose. Scent glands not included.
Folkmanis® Puppets believes imagination is the key to a healthy childhood, encouraging play and discovery to develop the skills necessary in life. The company has been making the most innovative and engaging specialty puppets in the world since 1976, delighting imaginations and winning nearly every industry, child development, and kid-tested award, many repeatedly.
Cleaning instructions:
For spot cleaning, use lukewarm water and sponge with mild liquid detergent to wet and lather fur. Rinse surface with sponge. Be careful not to wring or twist the puppet, or you may end up with lumpy stuffing. Dry by gently squeezing between towels, or hanging from clothesline to drip-dry.