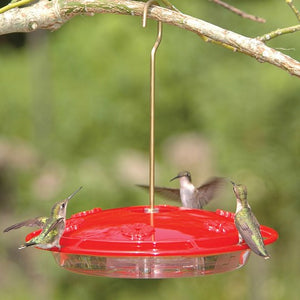 The bright red cover has 6 raised flower feeding ports, attracting many hummingbirds! Protects your hummingbird nectar from direct sun as well. The top opens for easy cleaning and filling.

8" solid brass hanging rod included. Can be hung or post mounted. Features a frosted nectar scale embossed on the clear bowl. Leak proof and drip resistant. Made of durable, unbreakable polycarbonate material. Built-in ant cup.
16 oz. nectar capacity
2.25" x 9" x 9"